From laser treatments to light therapy, Healthista's Ksenia Lavrentieva reviewed 5 London Beauty Clinics to give your skin some TLC this spring. 
As spring approaches our dry winter skin is in desperate need of a little TLC.
With the seasons changing you will find most people shedding their cold-weather cocoons in favour of new fitness routines, skin care regimens, and supplements in preparation for the sunshine ahead.
these treatments can revitalise your overall skin complexion
Every month we review our favourite products, treatments, and experiences to help our reader's navigate through the many options in and around London with our true and honest opinion.
This month, Ksenia tried treatments from BBL laser to infrared light therapy to get the inside scoop on how these treatments can revitalise your overall skin complexion. Read more to find out what she had to say….
For someone who had a bit of redness on their cheeks, I wanted to find a treatment that would give me a clean, less inflamed complexion.
After speaking with their aestheticians, I decided to have a BBL (Broadband Light phototherapy) treatment at The Clinic Holland Park, which is a lovely boutique tucked away in the heart of the very opulent Holland Park in London.
perfect for someone who suffers from rosacea, broken capillaries, or wants to reduce inflammation
The procedure uses no aesthetics because it's not necessary – it simply felt like a small rubber band snap on the face – but was over in no time.
This treatment is completely perfect for someone who suffers from rosacea, broken capillaries, or wants to reduce inflammation.
READ MORE: 7 beauty buys to help you look & feel great this Spring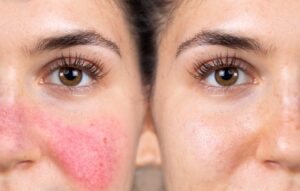 Located right off High Street Kensington, the Body Lab is a state of the art gym, which includes the latest body and mind bio-hacking modalities to help you become the best version of yourself within and without. Here are some treatments we would recommend:
Flotation Therapy: Epsom salt water set in an enclosed pod helps to lower cortisol levels (the stress hormone) whilst also reduce inflammation, stimulate collagen production, and improve your quality of sleep.

Cyrotherapy: a standing chamber that sits at a -110 celsius (yes it was freezing cold) yet this treatment helps to activate your immune system, boost blood circulation, and help you recover quicker from sore muscles post-workout.

Hyberbaric Oxygen Chamber: the first of it's kind in the UK, this pod-like bed is proven to improve mental clarity, deepen your sleep at night, and increase energy production.
Membership starts at £460 per month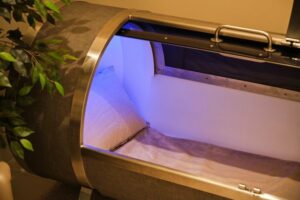 Where technology meets mental health, this beautiful state of the art facility in Nine Elms focuses predominately on bio-hacking in order to improve your overall well-being. These are the treatments we would recommend:
Infrared Sauna: these are a step up from traditional saunas as red light therapy is known to promote anti-ageing and improve circulation just from a 45 minute treatment.

Rebalance Impulse: this machine is a cognitive light therapy chair/bed, made to reduce stress and promote pain management, giving an overall sense of neuromuscular relaxation. After the treatment I definitely felt a lot calmer as it gave me time to tune out my phone and relax without distractions.

Emerald Laser: this FDA cleared laser is meant to remove an average of 6 inches of fat in the waist whilst increasing energy levels. The best part about it was there is no down time, no pain, no bruising, and only took 30 minutes.
READ MORE: 6 mind-skin rituals to support women through Menopause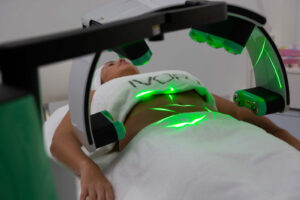 Mina Lee is the founder and director of Minalee London, a luxury aesthetic treatments facility in Chelsea. At Minalee, we were able to experience a bespoke holistic facial.
This unique treatment was not only healing, but also incorporated an array of techniques that embrace the whole body. Mina had healing hands that felt like magic wands – working on the inner and outer beauty.
This facial included a consultation, body stretching, acupuncture over the head and face, and a warm table bed with a luxury duvet to wrap you in as well as crystal brush hair brushing.
The facial itself started off with a normal cleanse and exfoliation followed by a healing massage, acid peel, and various use of serums and creams tailored to my skin.
Lastly, the facial was finished off with HIFU collagen booster to promote elastin synthesis and hydration within the skin. Mina used a products called Ranavat which I would highly recommend purchasing for your skin care routine.
Mina had healing hands that felt like magic wands
Luxury ayurvedic skincare brand Ranavat is the first South-Asian founded Ayurvedic skincare brand to launch in the UK, and has partnered with Super Facialist, Mina Lee to offer you an exquisite, custom-tailored facial using the luxurious and award winning Ranavat skin and hair care treatments.
The facial experience harnesses the power and proven science of Ayurveda and adaptogens to provide a luxurious treatment that gives incredible results.
Centered around superior saffron, with Ranavat's Saffron AHA Masque and Brightening Saffron Serum, and at the hands of super facialist, Mina Lee, this treatment takes your skin and sensorial experience to the next level.
It incorporates relaxing breathing exercises, soothing head and Kansa Wand massage, deep cleansing &hydration, acupuncture and facial massage.
Treatments range from 60 to 90 minutes. Enquire for prices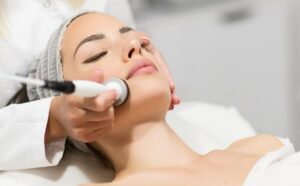 In a previous collaboration with South Kensington members club, Effect Doctors created an exclusive bespoke IV drip that provides nutrients and vitamins either in the comfort of your own home or at one of their locations.
They have IV drips ranging from Skin Brightening, The Vitamin C Drip, and The Jet Lag Reset which is perfect for any spring holiday that you may have planned the next month.
Effect Doctors also perform blood tests which are able to tell you more about your body, hormones, and what deficiencies you may have.
IV Drips start from £200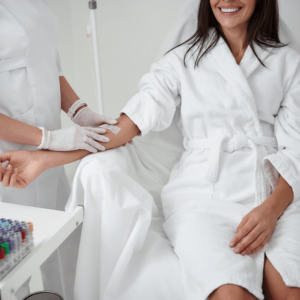 Like this article? Sign up to our newsletter to get more articles like this delivered straight to your inbox.